Categories
Categories
Brands
Brands
Latest News
Posted by on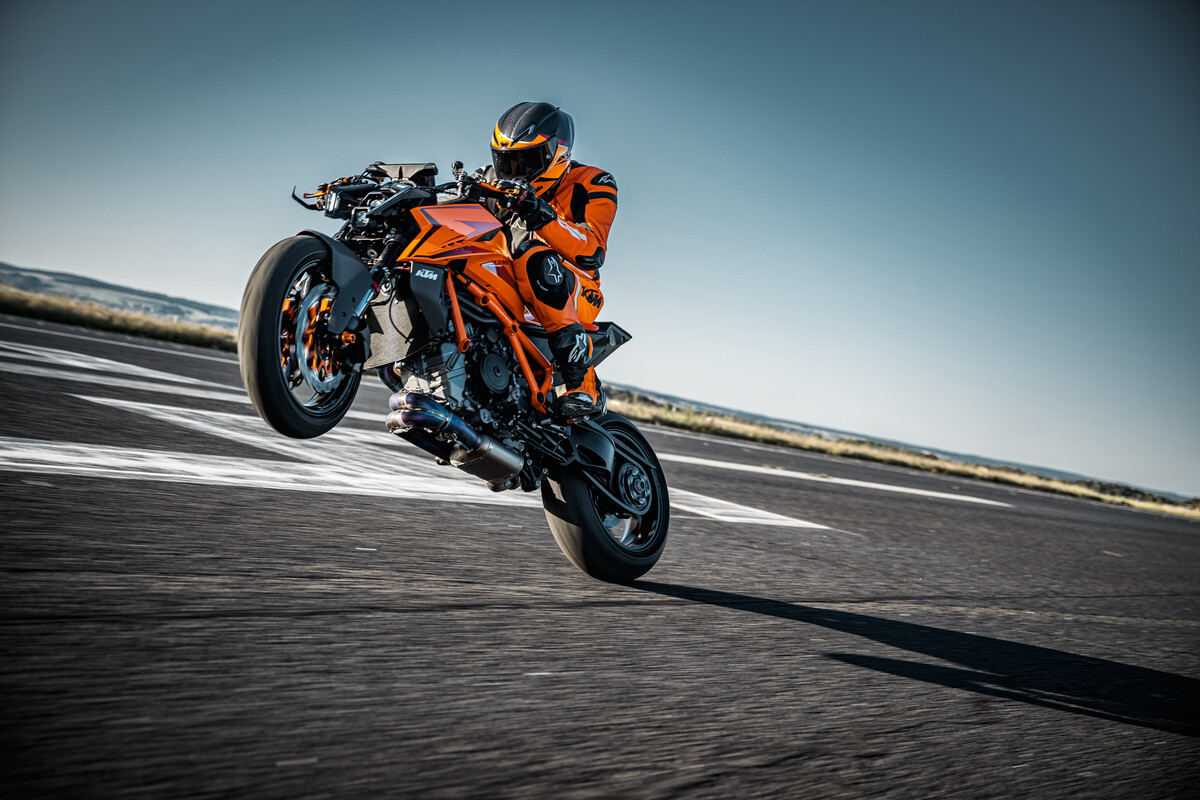 The 2024 KTM 1390 SUPER DUKE R and KTM 1390 SUPER DUKE R EVO have erupted into the Naked segment without warning, sending a clear message to the competition: there is a new BEAST on the prowl.
With 2024 marking 30 YEARS OF DUKE, the all-new KTM 1390 SUPER DUKE R and its high-tech stablemate - the KTM 1390 SUPER DUKE R EVO - have evolved into their most fearsome iterations yet.
The numbers tell the story - 1,350 cc, 190 Hp at 10,000 rpm and 145 Nm of torque at 8,000 rpm, ripping into the tarmac with pure ferocity and a new, more aggressive look to match. Impressive figures aside however, it is its effectiveness at getting power to the ground that makes it even more potent.
For 2024, THE BEAST has undergone a striking aposematic evolution, sending a clear warning message to anyone brave enough to take it on. An all-new LED headlight unit dominates, with new tank spoilers and added winglets making it known that it is not to be messed with. A further reduced subframe cover eliminates the brake light making for an even sharper look and riding experience. With a lower overall profile and more emphasis placed on the compact chassis, the KTM 1390 SUPER DUKE R looks more muscular and aggressive than ever before. In short, KTM upped the attitude by lowering the altitude.
A redesigned air intake and airbox see a revised fuel tank with an overall tank capacity of 17.5 litres - an increase of 1.5 litres over its predecessor. This not only takes the riding range up to around 300 km / 185 miles but also performs an important ergonomic function. In the hunt for grams, every panel has been calculated for optimum thickness and minimised where possible, with new tank spoilers and added winglets increasing downforce.
However, it is the lightweight and 'smart' headlight design that makes the biggest visual impact. Weighing in at nearly 700 g less than the previous unit and boasting an alien-like design, it adds an all-new aggressive glare to the KTM 1390 SUPER DUKE R. Position and daytime running lights are located on the profile of the headlight, which auto-adjusts in intensity according to ambient light conditions.
Additionally, the KTM 1390 SUPER DUKE R and KTM 1390 SUPER DUKE R EVO are fitted with Coming Home light functionality as standard. Here, the headlight will remain on for a short period of time after the ignition has been switched off, allowing for greater ambient visibility. This not only illuminates the surroundings but provides a level of safety when parking in dark areas.
Backing up its muscular stance, at the heart of this ferocious BEAST sits an enlarged powerplant - an updated version of the LC8 - further marking its territory as the alpha. The bore is increased to 110 mm to achieve an engine displacement of 1,350 cc, with an all-new cam shift integrated on the cylinder heads. This provides more power and torque throughout the rpm range and allows for a more differentiated fuel mapping to meet the latest EURO 5+ emission regulations.
Getting that power to the ground comes courtesy of new, lightweight MICHELIN Power GP tyres with dual-compound technology, as well as a new WP APEX shock absorber which is fully adjustable, allowing for separate high and low speed adjustments, rebound and toolless pre-load adjustment. Improved DCC settings provide better pressure balance resulting in less compromise between suspension comfort and performance, while new 48 mm WP APEX Open Cartridge forks with split function provide optimised settings.
On the KTM 1390 SUPER DUKE R EVO however, the suspension management is taken to an all-new level with the latest generation of WP Semi-Active Technology (SAT). As the most advanced suspension system on the market, it features electronically controlled magnetic valves for variable damping, providing a wide range of adjustability – from maximum comfort to track-ready stiffness. Here, the SCU (Suspension Control Unit) adapts the damping rates via the magnetic valves in real-time, reading the road surface and rider style to automatically adjust the suspension on the fly.
The technology feast doesn't end there, with both the KTM 1390 SUPER DUKE R and KTM 1390 SUPER DUKE R EVO debuting updated PERFORMANCE and TRACK MODES, complete with lap timer and telemetry stats, as well as optional ENGINE BRAKE CONTROL and an updated SUSPENSION PRO module for the KTM 1390 SUPER DUKE R EVO.
The KTM 1390 SUPER DUKE R and KTM 1390 SUPER DUKE R EVO are available in select 30 YEARS OF DUKE colourways, reminiscent of the orange scheme found on the 2005 KTM 990 SUPER DUKE. Both 2024 models will be available from January 2024 onwards, UK pricing below:
2024 KTM 1390 SUPER DUKE R - £17,999 OTR
2024 KTM 1390 SUPER DUKE R EVO - £19,599 OTR
KTM will also be giving away a brand new KTM 1390 SUPER DUKE R towards the end of the year. Entrants are encouraged to visit KTM.com to sign up for the KTM newsletter and be entered into the lucky draw.
Discover more about 30 YEARS OF DUKE and the all-new 2024 KTM 1390 SUPER DUKE R and 2024 KTM 1390 SUPER DUKE R EVO online HERE
Having set the benchmark for the sub-500 cc Adventure segment, the ever-impressive KTM 390 ADVENTURE heads into 2024 with fresh new colour schemesMerging all-road versatility and proven reliability with real-world performance, the KTM 390 ADVENTURE is known for its outstanding power-to-weight ratio, top-shelf technology and overall riding agility. For 2024, it brings the same impressive [...]
Begin your Christmas in style with our exclusive KTM Red Bull Christmas Collection! These festive fashion essentials were unavailable in the UK last year so demand will be high! Act fast because our stock is extremely limited! So Pre-order now to ensure you receive them in time before the Christmas rush!?✨❄KTM Red Bull Christmas Sweater the [...]
KTM SX-E2Designed to be a true grassroots entry into the motorcycle world, the KTM SX-E 2 provides the ideal platform for young riders to find their feet – and throttles – anywhere the terrain allows. Following the successes of both the KTM SX-E 5 and KTM SX-E 3, the all-new KTM SX-E 2 rolls up to [...]
We are GO for our latest POWERPARTS and POWERWEAR sale, enabling you to treat the one you love (your bike, obvs!) or yourself with some fresh metal of new threads to take yourself into the rest of the year in style – all for much less than you'd expect. Your local KTM Authorised Dealer is [...]
2024 125 & 390 DUKE!Pre-Orders now being taken at Judd Racing Call 0115 8226373!KTM charges into model year 2024 with a brace of all-new single-cylinder DUKE models, bringing more punching power, improved handling, and clear differentiation of attitude between the displacements. In short, the all-new DUKE range cuts the bullshit, bringing more bike for your [...]
Revvi 18" Electric Balance Bike After the success of the Revvi 12", Revvi 16" & Revvi 16" Plus Children's Electric Balance Bikes, Revvi has now launched an all new Revvi 18" Electric Balance Bike for 8-12 Year olds. This new kids bike is now available for pre-order at Judd Racing! With its sleek design, advanced features, and commitment to [...]
WARNING! KTM has unleashed an unstoppable surge of speed and savings. Bad news for the competition and great news for your wallet. Check out the latest deals for the 2023 KTM Street Models.NAKED DEALS 2023KTM 1290 SUPER DUKE R EVO2SAVE £ 3,000AND GET 2+2 EXTENDED WARRANTY3Evolution and adaption are critical when it comes to maintaining [...]
MASSIVE SUMMER SAVINGS AVAILABLE WITH NEW KTM POWER DEALSUP TO £3,000 TRADE IN BONUS, LOW RATE FINANCE, VAT EQUIVALENT DISCOUNTS AND TWO EXTRA YEARS WARRANTY NOW AVAILABLE ACROSS KTM STREET AND OFFROAD RANGEWhat better way to celebrate the holiday season – and to head into the rest of the year in style – than to [...]
Tour the gorgeous British coasts and countrysides on a commando 961, using the Norton summer incentive.Throughout the month of July, you can get: £961 deposit contribution£750 part exchange contribution when you trade in£125 voucher for services or accessories.Terms and conditions apply.Call us at 0115 8226373 to find out more!Click here to view our full Norton range!